Termination of the Cumulative Term Deposit
Partial or full withdrawal of the Cumulative Term Deposit amount will be considered as a premature deposit withdrawal.
If the deposit is withdrawn within the first 12 months after the opening date, 1% of accrued interest will be paid.
In case if the deposit is withdrawn after 12 months but before the deposit maturity date, interest will be paid on pro-rated basis based on the following formula: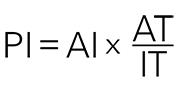 where:
PI – payable interest
AI – accrued interest
AT – actual term
IT – initial term
In case if interest has already been paid, interest amount will be recalculated and any applicable difference will be deducted from the deposit principal.
Cumulative Term Deposit account closure fee is not applicable.

Last updated on: 02.05.22, 08:34